Key events Show
Live feed
Show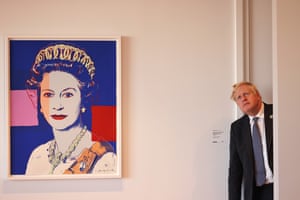 Covid-19 was the third leading cause of death in England in August, up from the ninth leading cause in July, according to figures released by the Office for National Statistics this morning.
As PA Media reports, this is the highest ranking for Covid-19 since March, when it was also the third leading cause of death. In Wales, Covid-19 was the seventh leading cause of death in August, up from 22nd place in July and the highest ranking since March.
Jennifer Arcuri, who says she had a relationship with Boris Johnson while he was London mayor, will speak to the London assembly's oversight committee at 3pm this afternoon about claims that he included her on trade trips and supported her company as mayor without declaring their relationship. City AM has a preview here.
Johnson has not confirmed that the pair had a relationship, but earlier this year Downing Street claimed he had "no case to answer" in relation to the allegations.
Updated at 10.48am BST
Kwarteng says he would like to see 'more stable' energy market, implying fewer firms needed in future
Here are the main points from what Kwasi Kwarteng, the business secretary, said in his interviews this morning about the energy crisis.
He hinted that the government could offer people more help with their bills. On ITV's Good Morning Britain, told that he needed to offer people hope, he replied:
You're right, and that's why I'm very keen to keep the warm home discount and also there are other winter fuel payments that we're looking at.
Asked if he had spoken to the chancellor about increasing the warm home discount, he replied:
We have discussions about the budget, and you will see what happens in the budget.
I can't possibly pre-empt or anticipate what will be in that budget ahead of time, you'll appreciate that.
Good Morning Britain
(@GMB)
'You need to be able to offer them hope.'@susannareid100 challenges @KwasiKwarteng about why the warm home discount hasn't increased when the price cap has risen. She points out that the government is 'driving down' the living conditions of people in the UK. pic.twitter.com/9bEzKxMDDz
September 21, 2021
He confirmed that the government was keeping the energy price cap, but would not rule out the level at which it is set rising next year.
He said that he hoped to arrange a solution to the carbon dioxide supply problem today. The problem has arisen because two UK fertiliser plants, owned by the American company CF Industries, have ceased production because the price of the gas that they need to function has risen too high.

But those factories as a byproduct produce 60% of the food-grade CO2 used in packaging meat and dairy products to keep them fresh. The CO2 is also used for animal slaughter. Kwarteng said that he had spoken to the boss of CF Industries twice in the last two days and he told the Today programme he was "hopeful that we can get something sorted today" to get production running again in the next few days.

He said this could involve some cost to the government. Any support offered would only be offered on a temporary basis, he said.
He said any support offered to gas companies would take the form of a loan. "It won't be just a grant, it won't be just a blank cheque," he said.
He suggested that in the long run he would like to see fewer companies in the energy market. He told Today:
Going forward, we want to see perhaps a more stable market in terms of the energy suppliers.
This is my third winter in post, either as energy minister or its business secretary, and each of those winters we've typically expected five to eight suppliers to exit the market. That's quite a volatile market in terms of the supplies.
This sounded like an admission that energy market liberalisation had gone too far. Kwarteng would not say how many energy suppliers he would like to see in the market (there were around 70 at the start of the year, but five have gone bust recently, and more are expected to follow).
But he did say he did not want to "go back to the old world where you had five or six companies essentially being able to charge what they wanted".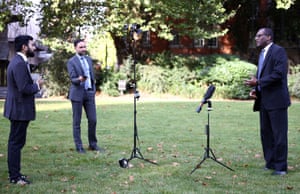 These are from Newsnight's Lewis Goodall on what Boris Johnson said about the proposed UK/US trade deal. (See 9.31am.)
Lewis Goodall
(@lewis_goodall)
Revealing in a number of ways this
1) A deal (for all sorts of reasons) was always a remote possibility.
2) Rare admission (and contrary to most govt mood music) of limits of UK political sway.
3) But doesn't matter much because as we know, they don't add much to GDP anyway. https://t.co/1lYSv7NdCF
September 20, 2021
Lewis Goodall
(@lewis_goodall)
Many Brexiters and ministers emphasised repeatedly the benefits of a US deal (the biggest deal available from any single country, so the biggest single state post-Brexit trade prize). This is the firmest indication yet that it won't happen any time soon.
September 20, 2021
Lewis Goodall
(@lewis_goodall)
Indeed, you might argue that what PM is saying, in stating that Biden has other "fish to fry" isn't so far away from President Obama's 2016 "back of the queue". This is something then Mayor Johnson decried at the time. https://t.co/XDzAGfNHuL
September 20, 2021
Lewis Goodall
(@lewis_goodall)
Obama was talking about slightly different things- saying US would prefer to make a deal with big trade blocs.
But both Obama then and Johnson curiously now, was/are making a similar point- that the UK could only expect so much attention on a Capitol Hill with a full agenda.
September 20, 2021
Lewis Goodall
(@lewis_goodall)
That is a shift in what we've heard from the PM and ministers before.
September 20, 2021
Johnson accused of Brexit failure as he admits UK-US trade deal near back of queue in Biden's priorities
Good morning. It turns out the UK has ended up near the "back of the queue" after all. For five years now, since the referendum, Brexiters have been talking up the prospects of a free trade deal with the US, which, according to the enthusiasts, was going to offer huge benefits to the UK and was just around the corner.
Shortly after becoming prime minister in 2019, Boris Johnson even said he would like to see it concluded within a year.
But now Johnson has admitted, in terms, that Barack Obama was right, and that a trade deal with the UK is not a priority for Washington. Asked when it was happening, Johnson told reporters travelling with him to the US: "I wouldn't hold your breath." He went on:
The reality is that Joe [Biden] has a lot of fish to fry. He's got a huge infrastructure package, he's got a build back better package.
We want to do it, but what we want is a good free trade agreement. And I would much rather get a deal that really works for the UK than get a quick deal.
My colleagues Heather Stewart and David Smith have the full story. This morning, in an interview with the Today programme, Kwasi Kwarteng, claimed that this did not mean that the trade deal had been shelved.
He said:
I don't think it's on the back burner, but I think what the prime minister said - in fact, I know that's what he thinks and what's what he said - is that it's much better to take our time to get a really good deal with US than simply to rush the process and get a bad deal.
Asked how long a deal might take, he said:
I'm hopeful that we can we can we can get there, but I can't give you a time as to how long it will take. Trade deals can can take very different amounts of time and I can't possibly guess how long this one will particular one will take.
But Nigel Farage, the former Ukip and Brexit party leader who for many years was the leading champion for Brexit in UK politics, accused Johnson of failure. Last night he posted this on Twitter.
Nigel Farage
(@Nigel_Farage)
The government had many years to do a wide-reaching trade deal with America under the Trump administration.
It could have been done by now, but May and Johnson completely blew it. https://t.co/CN590oaR7K
September 20, 2021
Kwarteng's interviews this morning mostly focused on the energy crisis. My colleague Graeme Wearden has all the latest developments on that story on his business live blog.
Here is the agenda for the day.
9.30am: The Commons health and social care committee takes evidence from the Royal College of General Practitioners and other health experts on the treatment backlog created by the pandemic.

11.30am: Kwasi Kwarteng, the business secretary, takes questions in the Commons.
After 12.30pm: MPs begin a debate on a Labour motion on the cost of living.
Lunchtime (UK time): Boris Johnson is interviewed by American broadcasters for their morning shows. He is also due to record interviews with British TV journalists.
1pm: Sir David Lidington, Theresa May's effective deputy when she was PM, speaks at the launch of a report from UK in a Changing Europe on global Britain.
Around 2.30pm: Nicola Sturgeon, Scotland's first minister, gives a statement to the Scottish parliament on Covid.
3am: Jennifer Arcuri gives evidence to the London assembly's oversight committee about her relationship with Boris Johnson when he was mayor.
Later Johnson will be meeting Joe Biden in the White House, but that is not due to happen until after 9pm UK time.
For more Covid coverage, do read our global live blog. I try to monitor the comments below the line (BTL) but it is impossible to read them all. If you have a direct question, do include "Andrew" in it somewhere and I'm more likely to find it.
I do try to answer questions, and if they are of general interest, I will post the question and reply above the line (ATL), although I can't promise to do this for everyone.

If you want to attract my attention quickly, it is probably better to use Twitter.
I'm on @AndrewSparrow.
Alternatively, you can email me at [email protected]
Updated at 10.33am BST