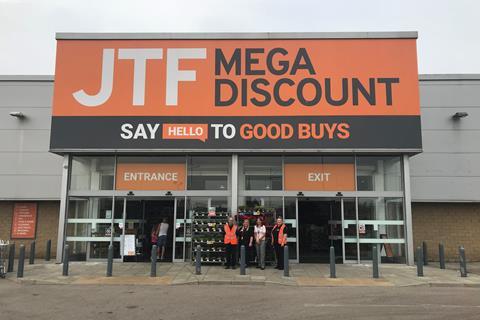 Forty-year-old discount chain JTF Mega Discount Warehouse has collapsed with the loss of 500 jobs. The variety discounter had 12 stores in retail parks in the midlands and north of England, but closed them all between the end of May and Friday last week.
Staff were informed by email today of their redundancy with immediate effect. JTF chairman Arthur Harris, who bought the chain in January last year, told The Grocer the redundancies were "the only real course of action". "We believed we had secured a sale of the business but unfortunately the buyer pulled out at the last minute leaving nowhere to go," he said.
"JTF had a fabulous team. I believed I had done everything possible to turn it around, taking it into profit within four months, but just hadn't factored Covid into the scenario. Lockdown two and three wiped out fireworks and Christmas sales, two of the largest seasonal times for JTF."
A JTF spokesman said it continued to seek a buyer. "JTF Mega Discount Warehouse has issued a notice of intention to appoint an administrator, protecting the business for 14 days while it endeavours to secure a buyer," he said. "The difficult decision comes after months of funding discussions and lobbying with local and national government to save the 40-year-old British retailer and protect the 500 people employed across its stores, warehouses and head office. "JTF was rescued from going into administration by its current owner in early January 2020.
New leadership took immediate steps to drastically reduce the business's overheads by circa GBP2.5m per annum and tackle GBP7m of debt which was successfully achieved, returning the business to profitability and achieving GBP1m net profit in four months. "The impact of the global pandemic which followed presented unforeseen and significant challenges for the retailer. The management team fought hard to secure the funding needed to survive the pandemic, securing support from many MPs, lobbying the government and exploring a great deal of funding options to no avail."
Staff, customers and local press had been told the store closures were temporary. A JTF shopworker told The Grocer: "We literally got the email today saying we're redundant. It says we'll be paid up until today.
"They closed Peterborough first and staff were told that was to relocate. As they closed the other stores we were told it was to relaunch. "They've been closing about four every couple of weeks and the last four closed on Friday."
The Grocer understands very little stock had been delivered to stores since January. JTF required customers to be members and sold a wide range of products from garden furniture to grocery. In June last year Harris enlisted advisors Resolve as JTF's restructuring partner in a company voluntary arrangement intended to address legacy debts.
As recently as May this year the business announced plans for a new retail concept and 50 new stores.
It said it was "introducing a unique retail concept to the high street".
It was called JTF Central and would "place entertainment at the heart of the shopping experience, with ambitions to acquire 50 stores, ranging between 25,000 and 125,000 square feet, and create 2,000 new jobs in the process".