Morrisons says it is to extend its 10% discount for NHS workers until the end of the year as the government faces a backlash over its planned 1% hike in pay for nurses. The UK's fourth-largest supermarket chain made the announcement as it revealed financial results for the year to 31 January that showed a 62% plunge in pre-tax profits despite a surge in sales during the COVID-19 pandemic. The chain first introduced its discount for NHS workers in April last year as the country grappled the first lockdown imposed by the government to curb the spread of the disease.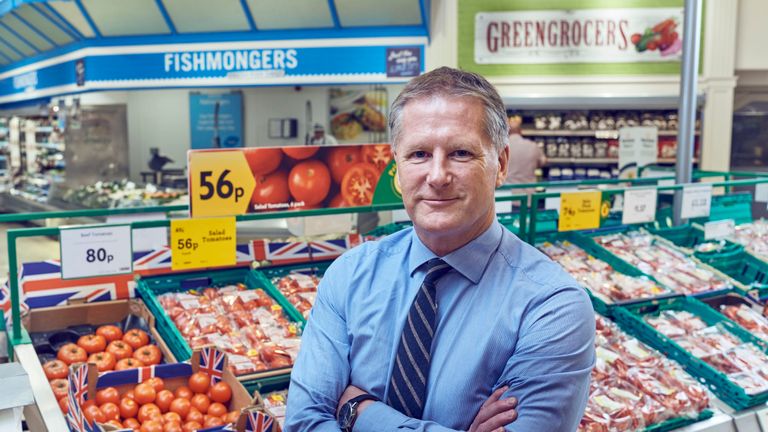 Image:
Morrisons chief executive David Potts has already rewarded staff with a pay rise
Morrisons said its discount reflected "continuing gratitude" for the work of the health service during the crisis to date.
The government is facing a charge from critics that it does not value the sacrifices made by nurses as it defends its handling of a proposed award of 1%. Advertisement As hospital staff battled surging cases, supermarkets were benefiting from their status as essential retail.
Morrisons reported an 8.6% rise in group like-for-like sales during 2020 with total revenues hitting GBP17.6bn.
More from Business
But it said that profit before tax and exceptional items slid by 50.7% to GBP201m - a result of GBP290m in coronavirus-related costs including staff absences and measures to keep staff and customers safe. The costs figure included GBP230m in business rates relief that has been handed back to the Treasury.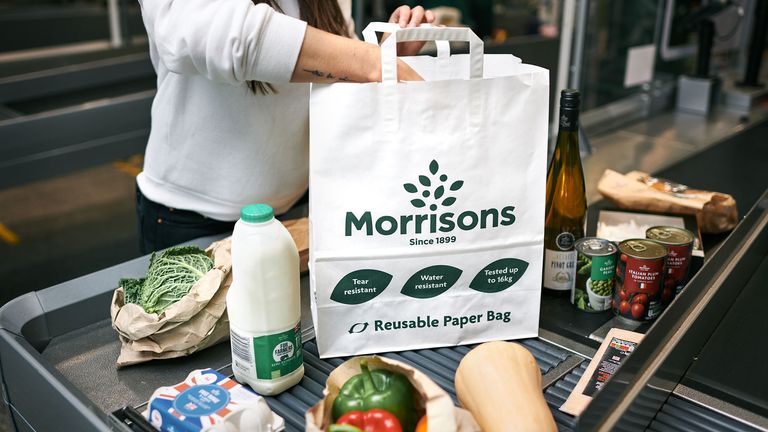 Image:
Supermarket chains have enjoyed a surge in sales online and in-store during the coronavirus crisis. Pic: Morrisons
Profit before tax, its bottom line, fell to GBP165m from GBP435m the previous year once other costs, including restructuring costs, were included.
Chief executive David Potts said: "Morrisons key workers have played a vital role for all our stakeholders during the pandemic, especially the most vulnerable in British society, and their achievements over the last year have been remarkable. "I am delighted that we are recognising their enormous contribution by becoming the first supermarket to pay a minimum of GBP10 an hour to all store colleagues. "We are also today showing our continuing gratitude and appreciation for the incredible work of other key workers in the nation, by extending our 10% discount for NHS staff for the whole of 2021."
Online sales tripled over the year and further growth was anticipated. But Susannah Streeter, senior investment and markets analyst at Hargreaves Lansdown, said Morrisons was hurt by the fact it still lags rivals in online delivery capabilities.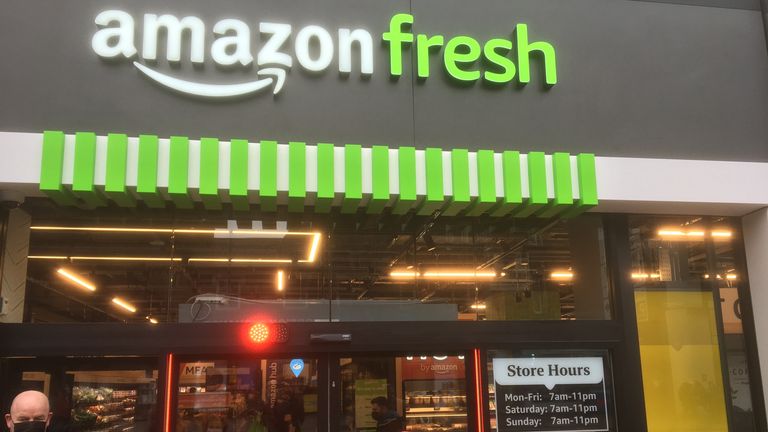 Image:
Morrisons is supplying Amazon Fresh in, what is expected to be, the start of a wider new relationship with the e-commerce firm
But she added: "Its burgeoning relationship with the King of e-commerce also has huge potential. "Morrisons on Amazon has been rolled out to 50 cities, and accounts for 10% of sales in most of the stores linked into the partnership.
"It also won the contract to supply the cashierless Amazon fresh grocery store which opened in Ealing, west London, with plans for more new concept stores to be opened.
"If it can become the minor royal in the Amazon empire, there could be significant rewards ahead."