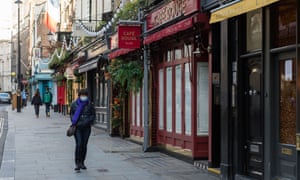 Key events Show
Live feed
Show
Closing summary
Time for a recap. Unemployment in the UK has hit its highest level in almost five years, as the Covid-19 pandemic continues to hit the labour market. The jobless rate hit 5.1% in the October-December quarter, with over 1.7m people now out of work and looking for a job.
But with the number of people on payrolls rising again, the labour market may be stabilising. Economists warned that the data didn't cover the full scale of unemployment, with many jobs being protected by the furlough scheme. Unemployment is expected to keep rising, to perhaps 6.5% by the end of the year, putting pressure on the government to extend the furlough job retention scheme.
Chancellor Rishi Sunak said that every job lost was a personal tragedy, pledging to set out the next stage of the government's Plan for Jobs in next week's budget. But his Labour opposite number, Anneliese Dodds, said the chancellor had helped create the jobs crisis by waiting too long to extend the furlough scheme last autumn. In the City, shares in property firms, hospitality chains and travel companies have jumped after the government outlined its plans to reopen the UK economy over the next few months.
Optimism over the prospect of an economic revival this year has also lifted the pound to a new three-year high against the US dollar, at above £1.41. Technology stocks are under pressure, though, amid fears that rising inflation will force central banks to tighten monetary policy sooner than expected. Electric car maker Tesla slumped by 9% at one stage, taking a dent out of Elon Musk's fortune.
The wider Nasdaq Composite is down over 2.3% now, having hits its lowest level since the end of January.
Bitcoin also tumbled, dropping 15% to around £47,100 right now after a parabolic surge in recent weeks. US Federal Reserve chair Jerome Powell has tried to calm market nerves by insisting that it will take time to repair the US economy. He told the Senate Finance Committee that:
"The economy is a long way from our employment and inflation goals, and it is likely to take some time for substantial further progress to be achieved."
Barron's
(@barronsonline)
Tech shares pared their losses during Fed Chair Jerome Powell's comments to Congress. https://t.co/IBv253qWXn
February 23, 2021
And in another sign of Covid-19's impact, HSBC is to reduce its office space around the world by nearly 40%.
It's part of sweeping cost cutting designed to capitalise on new part-office-part-homeworking arrangements after the pandemic. Goodnight! GW
Updatedat 6.02pm GMT
5.38pm GMT17:38 European stock markets had a mixed day, with small gains in London and Paris, but losses in Frankfurt and Milan.
Spain's IBEX was the outperformer, though, jumping by 1.7%. Real estate firms, consumer cyclicals and banks were the best performers -- all firms that would benefit from an easing of lockdown restrictions.


Zoe Wood Gordon Ramsay has suffered his own kitchen nightmare during the pandemic with his restaurant empire missing out on nearly GBP60m of trade.

The celebrity chef said that in December his 35 UK restaurants had GBP10m worth of reservations "wiped out overnight" when coronavirus restrictions were reimposed. "As of 19 March to 3 February this year we've suffered GBP57.5m worth of turnover down," said Ramsay. "I'm in it."
Sarah Butler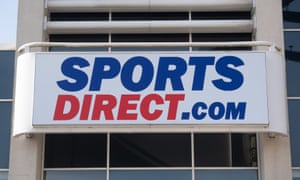 The reopening of the UK economy can't come soon enough for Frasers Group, the retailer controlled by Sports Direct founder, Mike Ashley. It expects to take a hit of more than GBP100m after the government said non-essential retailers in England would have to wait until 12 April at the earliest to reopen.
The group, which includes Sports Direct, House of Fraser and Flannels, said the sum reflected expected writedowns of the value of its properties and other assets. It told the City this morning:
"Given the length of this current lockdown, potential systemic changes to consumer behaviour and the risk of further restrictions in future, we believe this non-cash impairment could be in excess of GBP100m."
Updatedat 5.23pm GMT
5.05pm GMT17:05 Here's Michael Hewson of CMC Markets on the stock market rally in companies who should benefit from Boris Johnson's reopening plan:
Premier Inn owner Whitbread is also well on the way to wiping out its pandemic losses, its shares back at their highest levels in almost 12 months, while pub chain JD Wetherspoon shares have also returned to levels last seen a year ago.
The prevailing optimism is also feeding into the likes of Cineworld, whose shares have risen to an 8-month high, along with Hollywood Bowl, whose shares hit an eleven month high earlier today. Commercial real estate companies Hammerson, British Land and Land Securities are also getting a reopening optimism lift, in the hope that shopping centres will soon reopen and fill up with consumers again.
Property, airlines and hospitality stocks rally, but tech struggles
While growth stocks such as tech firms struggle, companies badly hurt by the pandemic such as airlines, hotel groups and property companies have had a good day.
Commercial property groups British Land (+5.4%) and Land Securities (+4.4%) are the top risers on the FTSE 100 index in London today.
Travel and hospitality groups also rallied, after the UK outlined its four-stage plan to reopen the economy over the next few months.
Budget airline easyJet gained 4.5%, and British Airways parent company IAG rose by nearly 2%, as airlines and travel companies reported a surge in holiday bookings: Smaller hospitality firms also rallied strongly, with Cineworld gaining 9.5% on hopes that cinemas will reopen in mid-May (as Boris Johnson outlined yesterday).
SSP Group surged 17%, as investors anticipated a pick-up in sales at its Upper Crust and Caffe Ritazza stores once holidaymakers and commuters return to airports and railway stations. Cider maker C&C Group jumped 9%, on the prospect of outdoor drinking resuming in mid-April, followed by indoor drinking in 17 May. Richard Morawetz, a vice president at Moody's says the leisure sector should be boosted by a jump in consumer confidence, and spending, as the lockdown eases.

"The gradual easing of lockdown restrictions, assuming no reversal, will support the resumption of operations and a revival in earnings in numerous sectors, and principally in those that rely on the free movement of people, such as tourism, retail and leisure activities.
This will be reinforced by the roll-out of the vaccination program, which will boost consumer confidence and consumption in the sectors that have been most affected by lockdowns."
The UK's FTSE 100 has closed 13 points higher at 6625, while the smaller FTSE 250 gained 0.4%.
The market was dragged back by technology firms, with tech investor Scottish Mortgage Investment Trust falling 5% and online grocer Ocado off 2.7%.

Nick Wood, head of fund research at Quilter, says a rotation from 'growth' to 'value' may be underway...and may create opportunities:

"Every year we get some sort of market correction that throws everyone off balance. It certainly appears as if the market could be shifting in sentiment given the rise in bond yields and the sell-off we are seeing in tech focused names.
Indeed, should this be a prolonged sell-off there will be some who will think that tech has had its day in the sun, at least for now. "The key for investors is to block out the noise and remember your reasons for investing, but it is still worth keeping an eye on should we see a more sustained rotation to the more value orientated section of the market. Investors should also be mindful of portfolio balance, and not having all their eggs in one particular style or size basket.
Despite the volatility, tech remains an important part of a portfolio given the trends seen since the pandemic, but this should serve as a reminder of the importance of being diversified. "This correction will hurt some fund groups more than others. For example, Baillie Gifford has a high weighting towards growth and tech stocks, and thus will be going through a period of weak performance, albeit in many cases on the back of an extremely strong 2020.
Indeed, we have seen its flagship investment trust, Scottish Mortgage, experience sharp share price falls over the past couple of days. This will cause many investors to begin to question these funds and if they still have a place within a portfolio as we emerge from the Covid pandemic. "However, while this might be the start of a short-term dip for the likes of Baillie Gifford and the more growth focused managers, it could present an attractive entry point for investors.
Given the falls experienced and the volatility it is showing, should Scottish Mortgage fall to a discount then investors should consider this a buying opportunity given the long-term track record the team has exhibited, as well as the quality of the portfolio."
Updatedat 5.00pm GMT
4.40pm GMT16:40 The tech selloff is easing off, a little. Tesla is now only down 4% at £685, while the Nasdaq Composite is down 1.6% in edgy trading.
Sterling hits £1.41 vs US dollar
The pound has risen to a fresh near-three-year high against the US dollar. Sterling has hit £1.411 against the greenback for the first time since April 2018.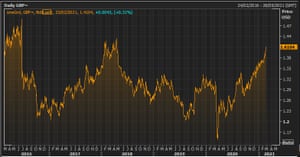 The pound has been boosted in recent weeks by the success of the UK's Covid-19 vaccination, and hopes that the economy will reopen this summer.
Craig Erlam of OANDA explains:
The recovery this year is going to be consumer driven, with pent up demand and increased aggregate savings being unleashed as people break free of their homes and enjoy the kinds of experiences that have been kept from them for so long.
The dollar, meanwhile, is weaker as Federal Reserve chair Jerome Powell testifies to Congress - insisting that the Fed will use "its full range of tools" to support the economy.
Powell: Vaccinations are key
Federal Reserve chair Jerome Powell is testifying to the Senate Finance Committee now, and maintaining a dovish approach. He explains that the most important thing for the economy now is the Covid-19 vaccination programme. Powell also warns that there is a 'long way to go' until the US has a full economic recovery -- another sign that the Fed isn't in a rush to tighten policy.
And on inflation, Powell says there could be a temporary move higher due to base effects, but he doesn't expect a large or persistent surge in inflation if consumer spending picks up substantially later this year.
Matthew B
(@boes_)
"We don't really see how a burst of fiscal support or spending that doesn't last for many years would actually change those inflation dynamics"--Fed Chair Jerome Powell on fiscal relief and the persistent low inflation environment
February 23, 2021
Rachel Leah Siegel
(@rachsieg)
On inflation, Powell tells @SenShelby that spending in the second half of the year could pick up and put some upward pressure on inflation But that pressure isn't likely to be large or sustained Inflation dynamics "do change over time but they don't change on a dime."
February 23, 2021
Fed chair Powell: inflation is still soft
Just in: America's top central banker has warned that inflation and employment remain well below the Federal Reserve's goals.
In his prepared testimony to Congress, Fed chair Jerome Powell says it will probably take "some time" to achieve substantial progress on bringing inflation to target and lowering unemployment. This, as expected, is an indication from Powell that the current ultra-loose monetary policy will remain in place for some time. CNBC has the details.
Despite a sharp rise this year in bond yields that has accompanied heightened concern over inflation, Powell said price pressures remain mostly muted and the economic outlook is still "highly uncertain."
"The economy is a long way from our employment and inflation goals, and it is likely to take some time for substantial further progress to be achieved," the Fed chief said in prepared remarks for the Senate Finance Committee. He added that the Fed is "committed to using our full range of tools to support the economy and to help ensure that the recovery from this difficult period will be as robust as possible."
Powell also flagged up that the economic damage caused by the pandemic means inflation is still notably soft in parts of the economy:
"Following large declines in the spring, consumer prices partially rebounded over the rest of last year. However, for some of the sectors that have been most adversely affected by the pandemic, prices remain particularly soft," he said.
"Overall, on a 12-month basis, inflation remains below our 2 percent longer-run objective."
CNBC Now
(@CNBCnow)
BREAKING: Powell says inflation is still 'soft' and the Fed is committed to current policy stance https://t.co/pi4jU8IQ2h
February 23, 2021
CNBC Now
(@CNBCnow)
Powell will also say: "While we should not underestimate the challenges we currently face, developments point to an improved outlook for later this year. In particular, ongoing progress in vaccinations should help speed the return to normal activities." https://t.co/pi4jU8IQ2h
February 23, 2021
3.02pm GMT15:02 Here's Fawad Razaqzada, analyst at Think Markets, on today's moves:
It is rare to see the markets providing so many mixed signals. Technology names have been hammered, as too have cryptos with Bitcoin falling more than 10% and below the key £50K level.
Yet, it is not entirely risk off, with some European indices being sharply in the black, while others are lower. Commodities that are sensitive to the economy, which have been outperforming, were also lower at the time of writing. So, what the hell is going on?
Razaqzada reckons twp factors are in play:
First, the fact that techs are falling and value stocks have been outperforming along with copper and crude oil are clear signs of rotation into assets that are expected to do well during good economic times.

If this is the case, then the weakness for technology shares could be short-lived, and dip buyers will be happy to get back in at relatively inexpensive levels again.

But the flip side of the above argument is that the markets may have already priced in much of the prospective global recovery, spurred by vaccines and stimulus. Will rising inflation expectations become a reality? If so, could major central banks start ending emergency easing programmes that have supported global markets so far?

This is the key risk facing the markets in the months ahead and so trading could become two-ways again rather than just up, up and more up for major US equity indices.
3.01pm GMT15:01 Tesla (-9%) isn't the only major tech stock struggling today. Apple is down 3.5%, Amazon has lost 2.2%, Alphabet (Google) has fallen by 2.3% and Microsoft has lost 1.7% in early trading.
Investing.com
(@Investingcom)
?BREAKING:
*NASDAQ COMPOSITE INDEX HITS LOWEST LEVEL SINCE JAN.
29; LAST DOWN 3.4%£QQQ pic.twitter.com/iVtyVcsU2R
February 23, 2021
Updatedat 3.02pm GMT
Katie Greifeld
(@kgreifeld)
The Nasdaq 100 has erased 2021 gains pic.twitter.com/haajKDiHEf
February 23, 2021
US stock market opens lower, as Tesla shares slide
Wall Street has opened in the red, with technology stocks falling sharply. The Dow Jones industrial average has dropped by 126 points, or 0.4%, to 31,394 points. The wider S&P 500 index is down 1%.
The Nasdaq composite is down 2.8%, or 377 points, at 13,155.
Bloomberg Markets
(@markets)
U.S. markets open lower https://t.co/FYhywaZ3gw pic.twitter.com/jdwzaK3k1k
February 23, 2021
And Tesla is leading the selloff, tumbling 10% to £638. That's its lowest level since the end of December, erasing the electric car company's gains for 2021. Back in late January, it briefly hit £900.
Investing.com
(@Investingcom)
*TESLA FALLS 9.3% AT THE OPEN, ERASING ITS YEAR-TO-DATE GAINS£TSLA pic.twitter.com/10JjOLsH0A
February 23, 2021
TheStreet
(@TheStreet)
Tesla ( £TSLA ) is now down 26% in the last month...
Is it time to buy the dip?
February 23, 2021
2.35pm GMT14:35 Over in the US, house prices have jumped at the fastest rate in almost seven years. Home prices nationally increased by 10.4% year-on-year in December, according to the S&P/Case-Shiller home price index.
Prices in the 20 largest metro areas jumped by 10.1%, the biggest annual rise since April 2014, with low borrowing costs and limited supply encouraging buyers to pay more.
Realtor.com Economics
(@RDC_Economics)
Today's S&P Case Shiller Index showed that #home prices accelerated in December 2020, with a 10.4% YoY gain, as buyers felt the strong pull of record-low #mortgage rates and kept bidding on a dwindling supply of homes. @GeorgeRatiu pic.twitter.com/9M3f6b3qqE
February 23, 2021
@realmacroecon
(@RealMacroEcon)
Case-Shiller: National House Price Index increased 10.4% year-over-year in December https://t.co/qOPgSLU4Iw pic.twitter.com/ktWYsrESdD
February 23, 2021
UK retailers see sharp fall in sales and mounting job losses,
Worryingly, job losses across the UK's wholesale and retail sectors have hit a record. The CBI's latest 'distributive trades' survey, released this morning, shows that retail sales kept falling in the year to February. With internet sales growing at record pace, retail groups kept laying off staff.
Employment across the wider distributive sector (retailers, wholesalers and car dealers) fell at the fastest pace since the survey began in 1983.
CBI Economics
(@CBI_Economics)
CBI DTS February - Retail sales fell in the year to February, at a slower pace than the previous month #dts pic.twitter.com/GCNCGVafZp
February 23, 2021
CBI Economics
(@CBI_Economics)
Internet sales grew at an historic pace (question first asked in Aug 2009), with the pace of growth expected to be broadly similar next month #DTS pic.twitter.com/xWBluKQzdF
February 23, 2021
CBI Economics
(@CBI_Economics)
Employment for the wider distributive sector fell at the fastest pace in DTS history (starting in August 1983), though broadly comparable with pace seen at the depths of the global financial crisis. #DTS pic.twitter.com/Bz8WsxkCZG
February 23, 2021
1.57pm GMT13:57 The oil price has hit a new 13-month high today, lifted by the prospect of lockdown measures easing. Brent crude traded as high as £66.79 per barrel, its highest since early January 2020, before dipping back.
It has risen steadily since November, when the first successful vaccine trial results raised hopes of an economic recovery in 2021.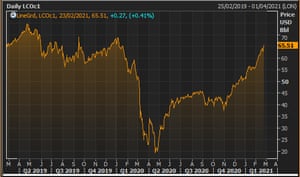 Updatedat 2.02pm GMT
1.28pm GMT13:28 Bill Gates also struck a cautious note on bitcoin, telling Bloomberg TV yesterday that he's not bullish about the cryptocurrency. Gates warned against retail investors being swept up in speculative "manias" - especially if they aren't as rich as Elon Musk - and also cited its hefty energy demands, and the way it allows anonymous transactions.

But, Gates does believe digital money is a good thing; saying the increased use of digital money by some emerging economies to get cash to citizens during the pandemic is a 'super-positive' move.
Bloomberg TV
(@BloombergTV)
Bill Gates is not bullish on Bitcoin. "If you have less money than Elon, you should probably watch out," he tells @emilychangtv https://t.co/onvymqYDD3 pic.twitter.com/tZoKFmr2he
February 23, 2021
Updatedat 1.28pm GMT

Rupert Neate Elon Musk, the maverick boss of Tesla, is no longer the world's richest person after shares in the electric car company dropped 8.6% on Monday, wiping £15.2bn (GBP10.8bn) off his fortune.
Musk, who last month leapfrogged Amazon founder Jeff Bezos to take the title of the world's wealthiest person, dropped back into second place with a £183bn estimated fortune behind Bezos' £186.3bn.
1
of
3
Newest
Newer
Older
Oldest