Chuwi's Brand Fest will be held on Aliexpress next week. It will feature coupons, giveaways, gifts, and discounts across a range of Chuwi branded devices and accessories. Some of the hot products like its LarkBox, HiPad X, and GemiBook models will also be up for sale.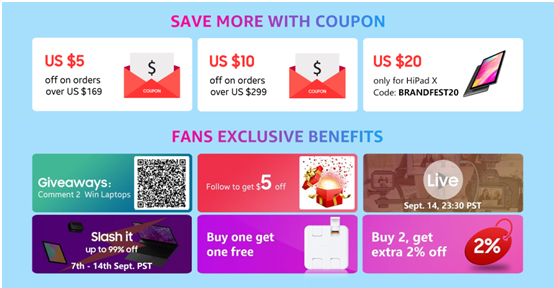 There are a number of ways to participate in the Chuwi Brand Fest, but make sure to pick up your favorite Chuwi products on or before September 15 to get the maximum discount. Special Activities: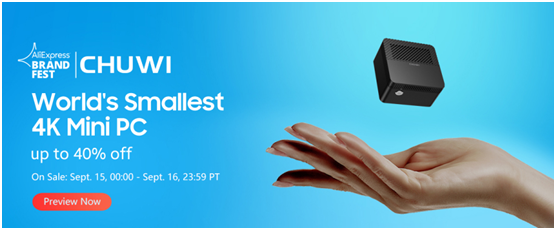 1?Coupon Chuwi is offering coupons worth £5, £10 during the activity.
Meanwhile, £20 exclusive is also available for the HiPad X. Enter the discount code: BRANDFEST20 when you buy the tablet. 2?Exclusive discounts for Chuwi fans
Giveaways: Post a comment in one of the company's official social media accounts for a chance to gain AeroBook Plus?HiPad X?and other computer accessories.
Buy one gets one: Buy new products to get a Hi-Dock charging kit
Follow coupon: Follow the store to obtain a £5 coupon.
For more details on discounts, check out the link here.
Special Discounted Pricing for New Products The Brand Fest arrives with three excellent products, LarkBox, HiPad X, GemiBook. Let's take a look!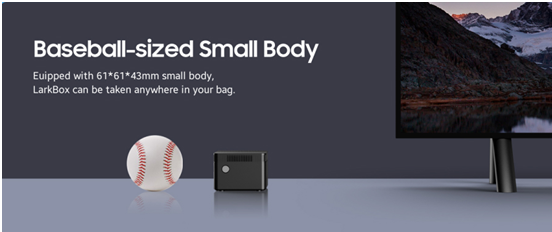 LarkBox - The smallest 4K mini PC
IntelJ4115| 6GB+128GB| 4K Output THe LarkBox was launched via IndieGoGo and achieved one million USD sales in crowdfunding due to its exceptional specifications. Featuring the Intel J4115 processor, 6GB RAM, 128GB ROM, M.2 SSD expansion, the tiny LarkBox can be used for office or home entertainment needs.
LarkBox is priced at £169.99 Purchase link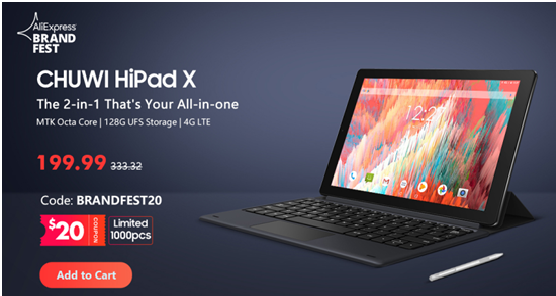 HiPad X - 10.1-inch 2-in-1 Tablet
10.1 inch HD | 6GB+128GBUFS|Dual 4GLTE|Android 10
HiPad X comes in a full metal body and features a 10.1 inch HD resolution IPS screen, Helio 8-Core processor, 6GB RAM, 128GB UFS ROM, ensuring a good experience. HiPad X is priced at only £199.99. A £20 coupon can be used when you enter the exclusive coupon code: BRANDFEST20 while purchasing the tablet.
GemiBook - 13-inch 2KHigh productivity notebook
13-inch 2K screen | 3:2 aspect ratio |IntelJ4115 | 12GB+256GB GemiBook is a productivity notebook featuring a 13-inch 2K IPS screen, 3:2 aspect ratio display, Intel J4115 processor, 12GB large memory, and 256GB high-speed SSD.
GemiBook's all-metal, thin and light body makes it portable and easy to use at home or your office. GemiBookis priced at only £299? Purchase link
In addition to the initial discount price, there are many promotional activities to participate in the fest.
You can get more information from this link.
ALWAYS BE THE FIRST TO KNOW - FOLLOW US!